Create the Website you want in a few seconds!
We have taken the demo import feature one step further
At installation, you can choose a demo layout that you like and install it with a single click. There is that one demo page that really sold you on the theme? Go ahead and make yours look identical in seconds, without cluttering your site with useless demo content that you will end up deleting anyway. Install only what you really need and want and get started with your content.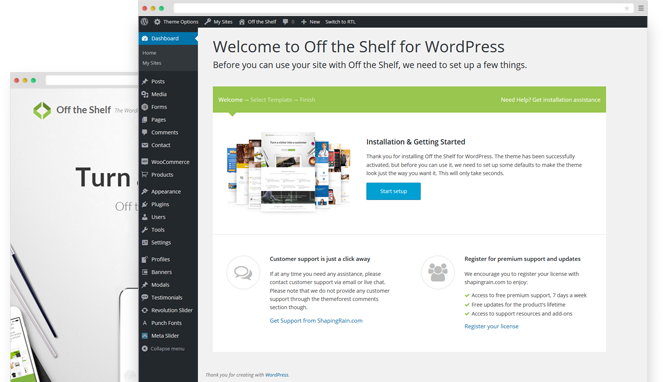 What makes this demo import so special?
You get the Demo without the clutter!
Other themes may offer a feature that they call "1-click demo import". But what that really does is clutter your blog with lots and lots of posts, pages and comments. That slows your site down and leaves a mess that you need to clean up manually.
Off the Shelf only installs the exact demo page you want, and you can install other demos later if you like, one by one, just as easily.
Will I lose everything I've already done if I install another demo?
To make it short, no, never!
The demo installation creates a new profile for each demo page so you can keep your previously installed demos. In fact, if you like multiple designs, why not try working with both and see what works best, or develop both versions and test them with your customers?